CLOSED FOR THE HOLIDAYS
BY THE CLANGING CHIMES OF DOOM!
Merry Christmas to all the people who have ordered with Heresy this year. It's been something of a rollercoaster of a year, I'm glad to see the back of it to be honest! Next year promises great thigns once the Dragon is at last slain, and the Kickstarter dealt with.
Heresy is now officialy shut for the Christmas and New Year holidays, officially reopening on 5th January although I'll probably be coming in to work bewtween now and then as there's too much that needs doing! You can still catch me on Twitter and Facebook.
See you in 2015!

LAST POST!
UK CHRISTMAS POSTING DATES 2014
Please get your orders in at least a day or two before the recommended last posting date for you coutnry as supplied by Royal Mail in this picture. Please use the best shipping available - Tracked & Signed if it's available to your country, as this means even if your local post office doesn't try to deliver your parcel you can see online the 'Attempted Delivery' info and know that you have a parcel to collect before they just send it back to the UK secretly. Be sure to take some ID with you as they won't have left a card to let you know and may refuse to give you the parcel without it!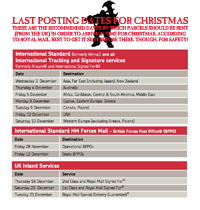 (Picture opens in new window)

PLEASE BE AWARE
I am now turning my attention to Dragon casting for the rest of the year - it's a headlong rush from here to next July as I have to clear the dragon queue and get started on the Kickstarter fulfilment as soon as possible. Expect the regular orders to be delayed by a day or two here and there - if you need something urgently be sure to MENTION IT when you order, using the comments box on the shopping cart, so that I know you need it quickly; be certain to pay for express delivery eg Special Delivery in the UK or Tracked & Signed for International customers.
---
COOKIES: This site uses session cookies to track your movements within the store purely in order to operate the shopping cart and your account details, etc. No tracking or personal identity information is stored regarding your non-Heresy internet usage. By using this site, you agree to allow the use of cookies during your session here.
For more information, click here. or read the Privacy page.
---

OVERSEAS HERETICS!

Please be sure to check the tracking number and website link I give you in your order status updates every day - some foreign post offices return things to the sender (ie Heresy) instead of keeping the parcel for any length of time! Don't let them get away with it, contact your local post office if the status changes to attempted delivery and you haven't had a card!

Snowy conditions mean your local post office might not even bother to leave a card. Be sure to take some ID with your home address on when you go to get your parcel. I just got this email this morning from a Canadian Heretic who was wondering where his parcel was:

"Yep, called the post office they sure did have it. Also must have auto sent your notification to the junk, never saw it. Got the mini's, liked the free demonic harem girls (Thanks man!) and kids loved the candy. Very cool. Love those blights you've put together. I'll say this again about your mini's, they're a fantastic blend between not plain sculpts and not choked with too much like say maybe the enigma range can get. Your mini's especially the blights are the kind that a complete raw beginner painter could wash and drybrush and they'd look fantastic and stand out. A display painter could put 30+ hrs into one of them as well. There's not a lot of sculptors who I think can hit that perfect balance like I find on your stuff. Well done!

Funny story about the delivery. We had about a foot of snow during the day on Friday so the official reason for the package not delivered was unsafe delivery conditions at delivery point. Fancy for too much snow on the walkway up to the door. Sidenote...

...the postal union in Canada is ridiculously strong. There labour contract states that a delivery can be refused if there is something like an inch of snow on the steps in front of the mailbox. In Canada. Doesn't make much sense to anyone.

...So I get to the post office pickup and tell them I have a package name and address etc. I ask why the package wasn't delivered and she says that according to the note he didn't go to the door because of delivery conditions. Snow. The lady at the kiosk then asks if I have the attempted delivery slip and I say I didn't get one, none was delivered. She says I need the slip as proof I am who the parcel is intended for. I have plenty of ID, can identify the package the sender, and the contents. She says she needs the slip. I remind her again that according to her info the driver never even went to the door, why would I have a slip. 2 supervisors later I get the package. Hooray Canada post! Another side note I once mailed identical packages at the same time. One to Poland and one to Ontario two provinces to the right. It cost more to ship in Canada by a couple bucks and it arrived in Poland three days earlier.

So Thanks again Mr. Foster, love the mini's and a pleasure. "

THE RETURN OF OUR BIG MONSTERS - IN RESIN!
You would not believe how badly Heresy has been hammered since Kickstarter launched. All those projects being run by big well-funded companies that don't need the money suck the hobby money out of people's Paypal accounts and leave none for us poor one-man shows that could really do with the cash! Well, if you can't beat 'em, join 'em! So I'm taking the opportunity that is Kickstarter to raise the funds needed to pay for the silicon etc I ned to reproduce all the old big monsters that Heresy used to produce in metal before it got silly expensive a few years back.
Including the much sought after and rare Netherlord mk 1 in both winged and spined variants!

Yes, the most iconic of all heresy figures (other than Big Boris) is making a comeback, and all those of you who've pestered me over the years can finally have your chance to own one - with the big difference that this one is much, much easier to put together and much nicer to paint! I've tweaked it just enough so that you don't have to spend three weeks working out how to pin and assemble 30-odd parts - it's a beauty to put together now! But it eats the rubber moulds at three times the rate of regular models, so it's only available for a very limited time. Don't miss out, this will be your only chance to get that NetherLord you missed out on a few years back!
The main aim of the Kickstarter is to raise enough funds to be able to close the shop for a few months to concentrate on casting dragons and monsters or maybe hire some staff to speed things up, so be warned that if it's really successful, you might not be able to order anything via the shop for a bit... ;)

LYING LIARS WHO LIE FORCE SHIPPING COST HIKE
Last year, a man from Iowa City, let's call him Justin, ordered some figures off me. He then emailed me to say they hadn't arrived. I sent him another box. He then said this hadn't arrived either and claimed the money back from Paypal. No boxes were ever returned to me. He didn't pay for trackable shipping so i had no way to prove he'd had either box. End result, I was out over £100 of stock and £25 of shipping.
Now a man called, let's say, Patrick also from Iowa City, has claimed via Paypal that his £84 order hasn't arrived that he wanted in time for this weekend; he didn't pay for express shipping DESPITE WANTING IT FOR A SET DATE. Despite also the fact it's only been three weeks, he has escalated it to a claim on Paypal. Just checked him out on Facebook. Guess who's on his friends list? That's right, Justin.
So basically I'm being ripped off for another £100 of stock and shipping, and now I'm going to have to change the cart so that anyone from overseas has to pay the extra £7.00 shipping charge for trackable shipping. Everyone loses. Well done, Patrick and Justin. I hope you feel like powerful manly men playing with your stolen toys. You've made life that little bit worse for me and for all my customers.
(Paypal always finds in favour of buyers no matter what proof of shipping one has, they don't even read the evidence.)
I have now added a £7.00 handling fee to orders from 'Rest Of The World' countries, which covers USA, Canada, Australia and The Far East. This means any order from there will pay £7.00 extra which will cover the trackable/signed for service to their country. If you're one of my regular customers from over the years, I will refund the extra fee or give you extra miniatures towards the cost if you wish. I don't see why the people who've kept me in business should suffer for the ones who try to put me out of it.

Again, apologies for this, but it seems to be the times we live in now.
~Andy Foster
Director,
Heresy Miniatures Ltd
PS, yes Paypal found in his favour, despite scans of proof of shipping and server records showing emails sent. I hope he's enjoying his stolen miniatures.

IT'S ALL ABOUT THE DRAGONS THIS YEAR
For those blissfully unaware, the Dragon has been a millstone around Heresy's neck in the swimming pool of business for the last three or four years, due to to constant problems firstly with finishing the damn thing and then with getting production castings of it meaning that every time I made a promise it ended up being broken due to lack of Dragons to send out. This ended up with 170 people waiting for a Dragon at the point of time in writing.
The only way to fix this was to invest in the equipment and practice of casting the beast in resin myself, which I undertook to start in August 2013 and I have recently finally successfully cast the piece that was causing most problems - the torso, with spines fixed in place (after several re-modellings and faield attempts). This means the rest of the dragon is now just a matter of moulding and casting. Because I am a one-man business these days, this means that to take the time to make the moulds and cast dragons I have to take time away from packing the regular orders.
THIS MEANS YOUR ORDER MIGHT GET DELAYED BY A FEW DAYS.
But look at it this way, you won't have been waiting four years to get your frigging Dragon, like the people who have. I apologise in advance for any inconvenience caused in the intitial stages of this Dragon rescue operation that results in delays to your own non-Dragon orders. Once all the moulds are made and casting is a regular thing that I don't have to even think about it anymore because it's as natural to me as casting metal figures, there shouldn't be very much impact on the regular orders at all.
Until then, I'll keep the 20% discount in play so at least you're being compensated for any delays!
Please note, if you choose Recorded Delivery, Special Delivery, Airsure or International Signed For as your shipping options, that doesn't mean you get your order packed faster, unfortunately (unless you email me and tell me it's for some ultra urgent occasion) - but it does mean that once it IS shipped, it will arrive faster (except Recorded Delivery, that's still only as fast as Royal Mail's First Class service pretends to be)
All the best
Andy Foster
Heresy Miniatures Ltd
PS When you place an order, you can check your customer account online to see if it has shipped yet - I will update the order status from "Paid For, Awaiting Packing" to "Shipped" when it has. Please allow some extra time due to the delays!

17th January 2014: SALE STILL STILL ON!
I have in fact caught up with the backlog of orders from the Christmas break, but now I have to take another week off to pay proper attention to the Dragon moulds again. Been ages since I've had the opportunity and money to try a new mould, so I'm doing that next week. I was doing this once a month or so before the Christmas gauntlet period began, and have been itching to get back to it. So with Salute fast approaching (12 weeks today until the big show!) I have one last chance to take a week to do Dragon stuff before I have to then spend my time casting stock of everything else, to take to the show...
So in summary: NO ORDERS SHIPPING THIS NEXT WEEK but you still get 20% off on any miniatures you order during this time.
6th January 2014: SALE STILL ON!
I'm back at work, there's a big pile of orders to get through, so until I've caught up I'm extending the 20% sale offer! I'll let you know nearer the time when it will now end! I suspect there's a good three or maybe four weeks of catching up to do... please bear with me whilst I work my way to your order, there's only one of me...
Happy New Year!
---