COOKIES: This site uses session cookies to track your movements within the store purely in order to operate the shopping cart and your account details, etc. No tracking or personal identity information is stored regarding your non-Heresy internet usage. By using this site, you agree to allow the use of cookies during your session here.
For more information, click here. or read the Privacy page.

OUR BIGGEST EVER SALE IS NOW ON! This is because Andy is on his own these days and needs to finish sculpting the last few Kickstarter figures. The only way to get that done is to stop shipping the regular orders for the next couple of weeks, so to compensate for that, we are offering our biggest Sale ever - up to 25% off metal figures and even up to 10% off some of the resin ones, too! Offers will end midnight 29th July UK Time, and orders will begin to ship in the week of the 1st of August.
With the pound sterling struggling against the Dollar, Euro and Austrlaian Dollar, thnaks to the ongoing Brexit fiasco, the discounts we're offering are EVEN MORE MASSIVE compared to previous sale offers, for our overseas customers. DO NOT MISS OUT on this one, dive in right now! You can even get free shipping still, if you order £100 or more of figures!
PLEASE NOTE THAT ALL THE MODEL KITS WE SELL ARE SUPPLIED UNASSEMBLED AND UNPAINTED. THEY ARE MADE OF A TIN ALLOY OR OF POLYURETHANE RESIN (It will say which in the description) AND MAY REQUIRE CLEANING UP, ASSEMBLY USING SUPERGLUE AND GAP-FILLING USING MODELLING PUTTY. THEY ARE NOT TOYS AND ARE UNSUITABLE FOR CHILDREN UNDER 13.

If you are telephoning us, please be aware that due to an overwhelming deluge of fraudulent calls (30 on Monday alone) from people pretending to be officials, trying to switch our electric, or sell us IT or suchlike, we are screening all calls. Simply stay on the line whilst the answerphone message plays and start talking when you get the chance so that we can hear you aren't yet another salesperson but an actual customer we need to talk to! Sorry about this...it's a curse of the modern age.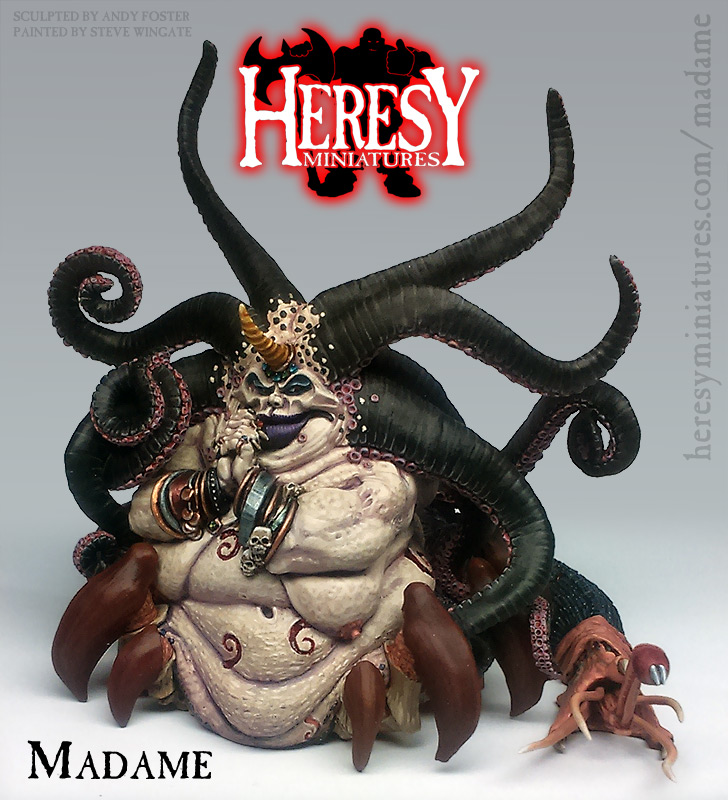 Pre-Order Madame Ner'Gabba Now!
We are making and casting the amazing Madame kit for the Kickstarter backers, and as soon as we've cleared that small queue we will start sending out the pre-ordered ones!
See the New Stuff section for details of our other new and upcoming items!

---