SALE ENDS 12.00AM (MIDNIGHT) 2ND MAY
That's two hours from the time of writing, UK time. Discounts will automatically end, even if the Sale signs are still visible until tomorrow morning when we get into work and change the site!
COOKIES: This site uses session cookies to track your movements within the store purely in order to operate the shopping cart and your account details, etc. No tracking or personal identity information is stored regarding your non-Heresy internet usage. By using this site, you agree to allow the use of cookies during your session here.
For more information, click here. or read the Privacy page.
PLEASE NOTE THAT ALL THE MODEL KITS WE SELL ARE SUPPLIED UNASSEMBLED AND UNPAINTED. THEY ARE MADE OF A TIN ALLOY OR OF POLYURETHANE RESIN (It will say whihc in the description) AND MAY REQUIRE CLEANING UP, ASSEMBLY USING SUPERGLUE AND GAP-FILLING USING MODELLING PUTTY. THEY ARE NOT TOYS AND ARE UNSUITABLE FOR CHILDREN UNDER 13.

If you are telephoning us, please be aware that due to an overwhelming deluge of fraudulent calls (30 on Monday alone) from people pretending to be officials, trying to switch our electric, or sell us IT or suchlike, we are screening all calls. Simply stay on the line whilst the answerphone message plays and start talking when you get the chance so that we can hear you aren't yet another salesperson but an actual customer we need to talk to! Sorry about this...it's a curse of the modern age.

SALUTE 2016
16th APRIL, EXCEL CENTRE, LONDON DOCKLANDS - Are you coming?
If you want to place an order for collection at Salute on the 16th, you can! It's easy - go to the site, log in to your customer account or register for one if you can (you can also checkout without one, and IIRC it will set an account up for you and generate a password and send you an email with info, check your junk folder) and place your order - then instead of using the Paypal button, just keep clicking CONTINUE so that you get to choose the Shipping Options. Select the option 'Store Pick-Up', and then in the 'Any Comments?' box on the cart, tell us that you want to pick up your order at Salute.
You will need to have placed your order by Monday night for safety, as next week is crazy mad work and we won't be able to process any orders after Tuesday due to the chaos in the workshop!
If you forget to pick up your order at Salute Andy will email you a Paypal invoice for the shipping needed to post it to you when we get back from the week off after the show.
PS We will be having a week off after the show. No orders will be sent out during that week.
Pre-Order Madame Ner'Gabba Now!
We are making and casting the amazing Madame kit for the Kickstarter backers, and as soon as we've cleared that small queue we will start sending out the pre-ordered ones!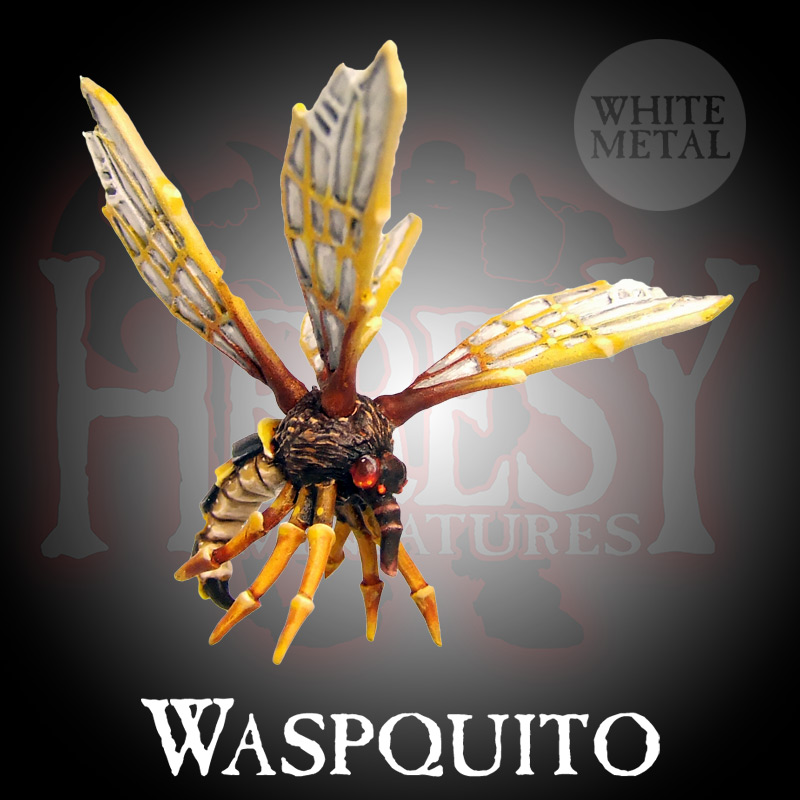 The Waspquitoes are back!
Loads Of New Stuff! Maggotmen! Occulak! 32mm Bases! Magnets! Return of the Classic Heresy Monsters - Manbane the Minotaur, the Snow Troll and the Dungeon Troll!
See the New Stuff section for details!

---
---